How much are you worth?
ok another pointless but fun exercise, and really made me feel better, so now I can say I feel like 2.5 million bucks instead of just a million!
It is interesting (if ya don't waste too much time on it) how society places value on people based on gender, height, income, etc.
And I have grown to know that I am worth what I feel I am worth. My worth as a person who holds a job for instance is dramatically skewed by the fact that I have been an independent contractor in sales for most of my life. This has kept me from being a teacher all my life, because of my perception of the available salaries.
Thankfully, I recently realized that I am a natural teacher, and can easily teach AND earn everything I think I am worth thru my journey of product creation.
Fun quote: America believes in education: the average professor earns more money in a year than a professional athlete earns in a whole week. - Evan Esar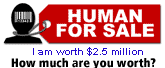 (click on above to be taken to the quiz)
After you go take this quiz, post your results here and let me know how you feel about what "they" say you are worth vs. what you think you are worth.
Hmmm, I just decided to up my value to $26 million, ~factor of ten and my birthday/lucky number. Nordstrom's, here I come!
:)